Daycares in Sandton: 3 Reasons to Send Your Little One to FasTracKids
Since going into lockdown, COVID-19 has disrupted the lives of many families. While many South Africans have felt the devastating ripple effects, it is essential to remember that life as we know it will return to normal eventually. You will return to work, your children will resume their studies, and your little ones will go back to daycare.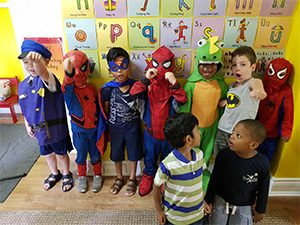 There's nothing more important to a working parent than knowing their young one is in good childcare. But finding a quality daycare will be a burden that many struggling post-COVID19 parents shouldn't have to shoulder alone. At FasTracKids, we understand the tough choices that parents are facing, particularly in this economy. While nannies and au pairs are popular in Sandton, they are also expensive. Keeping this in mind, here are three reasons to send your little one to FasTracKids daycare in Sandton.
We Teach Intellectual Excellence and Sound Values and Morals
As a proven innovator of 21st-century international early childhood education, we provide an educational advantage by encouraging children to discover a love of learning in a fun and interactive way. From the ages of one to eight years old, we offer education programmes focused on helping children master the four Cs: creativity, communication, critical thinking, and collaboration.
We Teach the Montessori Educational System Using Multi-Sensory Learning and Abacus Maths
At FasTracKids, we place great emphasis on encouraging children to maximise their full potential, with great emphasis placed on the Montessori educational system using multi-sensory learning techniques, Abacus math, and other highly respected educational systems. Meeting the needs of various learning styles and using the educational zigzagging method, we can offer your child the very best daycare curriculum in Sandton.
We Don't Only Teach Children What to Learn; We Show Them How to Learn
At FasTracKids, our daycares provide an educational advantage that many others fail to teach. Not only do we teach children what to learn, but we also show them how to learn. Teaching through exposure to visual, auditory, and kinaesthetic learning methods, we encourage children to discover a love of learning in a fun and interactive way. These methods will set your child on the path to successful studying throughout their educational years.
Every South African will agree that there is no better investment than an excellent education, and it all starts at daycare. At FasTracKids, we understand the economy, but we also understand that your child's education is the most important of all. Chat with us about how we can give your child an excellent education – at a price you can afford.