Learning While Sailing Into The New Year!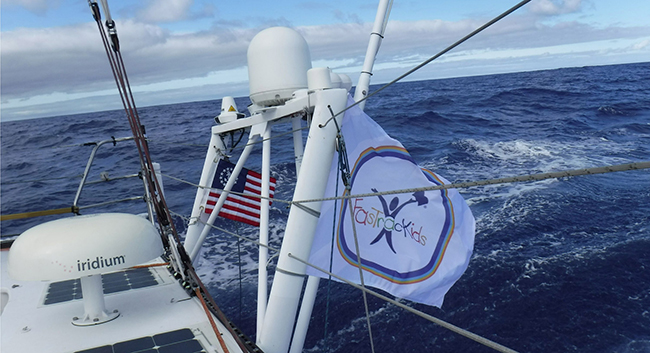 2016 offered our students a new way to learn, by using skipper Rich Wilson's first hand experience sailing around the world. There have been so many rewarding moments halfway through the Adventure At Sea program that we wanted to share them with you.
As the New Year approaches, students will complete 9 out of the 16 weeks in the Adventure At Sea program.  As skipper Rich navigates the challenging seas of the world, students learn about subjects and life lessons that are related to Rich's adventure.  Here are some of the highlights of our first live, special event program!
Learning about the ocean, weather, geography and goals
Our centers from around the world have made learning come to life with their creative classroom scenes.  Hands-on and group activities, video of students discussing what they've learned and plenty of opportunities to ask Rich questions excited our honorary sailors.  From creating a sea environment to learning about compass directions to creating their own FasTracKids paper boat, students have enjoyed their adventure on the sea.
Being part of a team!
Skipper Rich receives plenty of support from his FasTracKids team!  As students learn about how to accomplish projects as a team, they also send well wishes and good luck notes to their favorite skipper.
Asking Questions to Rich
Asking questions is a fundamental part of the learning process.  What makes this program unique is students can ask questions to the main subject.  Rich and his sitesALIVE! Team have fielded all different types of questions, ranging from what water he drinks to where he sleeps to how he handles storms.
Thank you video for Rich
During the holidays, our centers sent Christmas notes and videos to Rich Wilson and his team.  Some centers even put together "Thank You" videos for giving students the opportunity to learn and "sail" along with him.
We wish everyone a Happy New Year and look forward to more learning on our adventure with Rich!
---