An Ocean of Change

70% of the Earth's surface is water. And though our planet's oceans are vast, the smallest change can affect the entire ecosystem. World Oceans Day reminds us, and future generations, how we can change it for the better.
June 8th is officially recognized by the United Nations as World Oceans Day, a day that "provides a unique opportunity to honor, help protect, and conserve the world's oceans."  This year's theme, "Healthy Oceans, Healthy Planet", focuses on the dangers of plastic pollution and the strategies we can use to decrease it.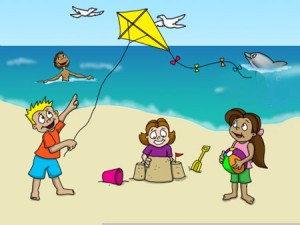 The Ocean Project, which advances ocean conservation in partnership with zoos, aquariums, and museums around the world, understands that education plays a pivotal role in the success of initiatives like these.  Because ocean conservation is so critical, they created the first ever Youth Advisory Council, comprised of young men and women who employ critical and creative thinking to help solve our ocean's pollution problems.  We at FasTracKids admire these efforts on behalf of the world's youth and hope that educational opportunities, like those at FTK, inspire future generations to conserve the oceans.
During the FasTrack Fundamentals Earth Science lesson, students learn about ocean life, how to keep oceans clean and the benefits humans receive from the ocean.  After asking questions, participating in group activities and exploring different aspects of the ocean environment, students receive a foundational education that inspires them to conserve this precious part of our planet.
Here is a fun ocean themed experiment from our Earth Science lesson for you and your child to do at home.  Happy World Oceans Day!

 Keeping Our Oceans Clean Experiment
---