Traveling with Children: Making Your Trip an Adventure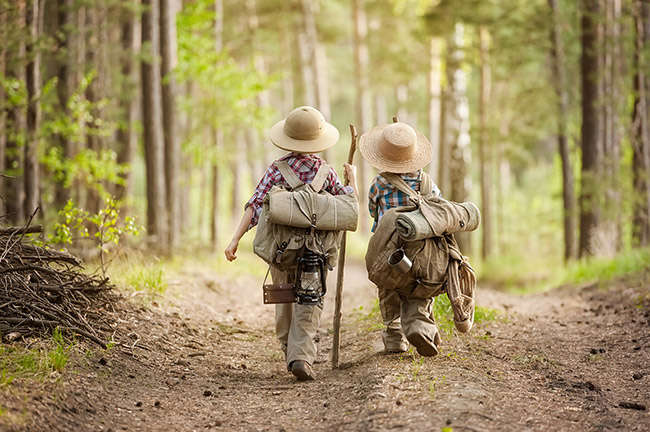 Traveling with a child can either be an adventure filled with exciting new experiences or an endless set of challenges and obstacles. The goal for parents is to have more of the former than the latter while planning a trip.
"To move, to breathe, to fly, to float, To gain all while you give, To roam the roads of lands remote, To travel is to live." ― Hans Christian Andersen
If you are traveling with a small child, we suggest you think about your young companion as someone who will add a whole new dimension to the experience. It is important that you do not have high expectations because things may not go smoothly. Instead, embrace the challenges and use love and tolerance to make the trip more enjoyable. Here are some proven tips to help you on your family journey.
Be Flexible
Traveling with a child, especially a toddler, can be a great experience – as long as you play along and use tricks to make it more enjoyable. For instance, children can become easily bored from standing in one place for a long time. To help alleviate this, leave time for them to sight-see and explore the world at their own pace. Do not overload your schedule, and if possible, limit yourself to one activity a day. This will make it much easier to make changes at the last moment if your child is tired or just wants to stay in the hotel pool.
Select a Suitable Destination
If possible choose a peaceful location to visit, one frequented by families, especially those with small children. Beach resorts, family camping spots or parks can be great places for children to unwind during their journey. These types of environments can also be collaboration and communication opportunities for your child while meeting other children on vacation. Try to avoid crowded tourists destinations, places without shade and any place with conditions that would challenge the comfort of a small child.
Bring Snacks and Drinks
When packing your luggage, make sure to include a substantial amount of snacks and drinks. Children dehydrate very quickly and are not always able to wait patiently until you get to a restaurant or stop to eat.. Whether you are in the air or on the ground, have healthy food and drink nearby. Some examples are whole grain snacks, pre-cut fruits and vegetables, small cans of fruit juice and crackers. Announcing regular meal intervals will help a child know what to expect and will make them more relaxed. Also, do not forget wet wipes for easy cleaning.
Schedule Frequent Rest Stops
If you travel by car, interrupt your drive frequently to allow the child to stretch and use some of their energy. Bring a soft ball or other small toy to play with during stops and encourage games that will keep them occupied in the car. Use online resources such as Google Maps, Yahoo Maps or MapQuest to look for parks, picnic areas or other stops in advance. Lastly, end each day a little early so your child can relax before bedtime.
Safety First
When you are packing, include a basic kit to childproof the room or house you will be staying in. Always check that the car seat is properly placed and make sure the windows have shades to protect your child from the sun. It is also a good idea to dress your child in bright clothes so that they can be easily seen in a crowd. Put a card in their pocket with their name, hotel address and your phone number. Also, take a picture of your child when you leave, in case you need to show someone later.
Carry a Magic Treasure Bag
A great way to keep the peace on long trips is to carry a bag full of small wrapped presents and toys. Start accumulating these gifts at least two weeks before the trip and pack your bag with more than you think you will need. Occasionally remove them and give them to the child to break up the day with fun surprises. You can also use them as rewards for good behavior.
Take a Test Trip
To see what works and what doesn't during travels away from home, organize a few smaller day trips or weekend trips before heading out on a long awaited vacation. These sample trips will give you valuable information on what to wear, how long your child can sit in the car and what toys best keep their attention.
And finally, remember to have fun. Do your best to see your trip as the adventure it is. Take everything that doesn't go your way as an opportunity to do or see something you wouldn't have otherwise. Traveling is all about making memories and learning experiences, so do your best to enjoy the journey as much as the destination. Your child will thank you later.
---